One of my favorite Disney movies is Beauty and the Beast. I always wanted to have a library like the one in the Beast's castle (and let's face it, I still do).
As a side note, if you haven't read
Beauty
by Robin McKinley, it's a great retelling of the Beauty and the Beast story, and it has an awesome library in it.
Blenheim Palace, in Woodstock, England, also has a pretty amazing library. I would be fine having this in my house (assuming that I had a house large enough).
http://www.blenheimpalace.com/hospitality/oxfordshireweddings/long-library.html
Thomas Jefferson's library (recreated in the Library of Congress, Washington, D.C.) is much smaller and less impressive, but has a nice, cozy feel to it. You can imagine Jefferson feeling at home and comfortable among his books.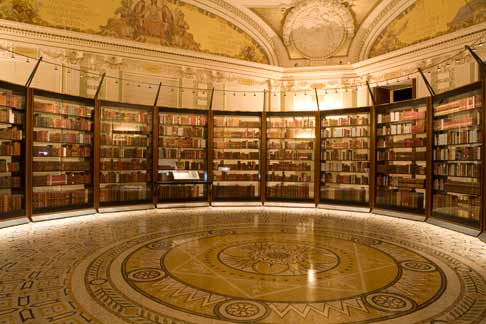 Then, of course, there is the Bodleian Library in Oxford, England, featured in the Harry Potter movies. The Bodleian houses medieval manuscripts, Shakespeare Quartos, and papers belonging to Jane Austen, T.S. Eliot, and the Inklings, among others. Some of the books are chained to the wall.
http://www.bodleian.ox.ac.uk/bodley
What's your dream library?